Japanese researchers at the University of Tokyo's Graduate School of Engineering have developed a highly elastic and thin elastic skin display capable of exhibiting simple characters and even moving graphics with an array of 16 x 24 micro LEDs. Its purpose extends beyond skin deep novelty: the minimally invasive medical system was developed to keep doctors connected with their senior patients ill served by current smartphone and computer UI.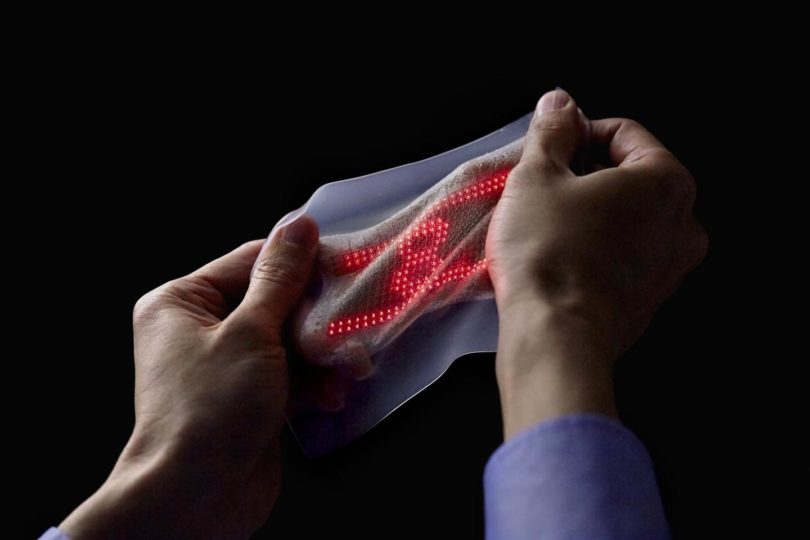 The LED display is stretchable by as much as 45% of its original length. Researchers are working to improve coverage while reducing costs of the skin-tight health monitoring system.
The e-skin health monitoring device combines a simple active matrix LED display with an integrated wireless biomedical sensor system. The miniature sensor detects touch, pressure, and temperature, allowing medical professionals to keep tabs on the health of their patients, while also offering the ability to send back a simple-to-understand assessment feedback using icons. And because the monitoring system is manufactured with a highly gas-permeable, stretchable rubber "skin" with breathable nanomesh electrode sensors, the medical device can be safely worn for up to a week without irritating the skin – ideal for monitoring patients during the recovery period while away from the observation of medical professionals.
Applied directly to the skin, the laminated electronics give the appearance of biometric henna tattoos.
University of Tokyo's partner in manufacturing, Dai Nippon Printing (DNP), is currently attempting to improve the e-skin system's reliability, while also extend its dimensions of coverage and bring costs down. Although the impetus for the development of this e-skin was kickstarted by healthcare, with competing research happening concurrently, it's obvious the technology offers endless potential to revolutionize fashion, entertainment, and fitness by merging our bodies with cloud-connected sensors and displays.
Source: design-milk