While Copenhagen continues to live up its reputation as the best city in Europe for cycling, Berlin continues to fall behind, with what seems like Autobahn-levels of congestion.
But there is a solution that could help put it on the right track: The Radbahn, a proposed five-and-a-half mile protected bike lane under a street-level subway bridge that connects the east and west sides of Berlin.
The idea comes from Finnish entrepreneur and cyclist Martti Mela, who hopes to see construction start by 2018. The concept was recently awarded the Federal Eco-design Award by Germany's Federal Ministry of Environment, and the first part of their feasibility study will be released on July 30.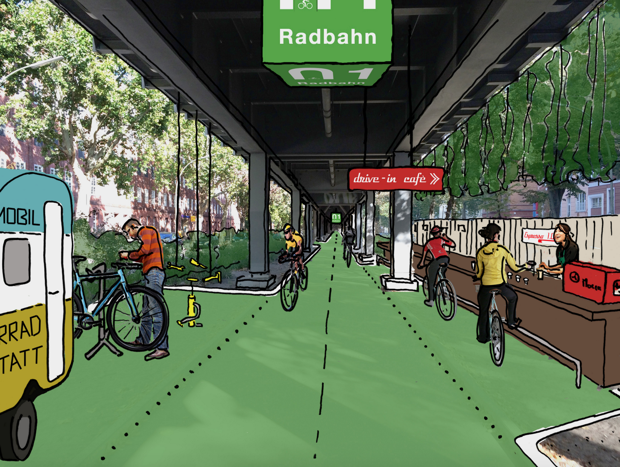 The bike lane will start from the Zoologischer Garten subway station in Charlottenburg and snake through the districts of Schöneberg and Kreuzberg before ending at the Warschauer Strasse bridge in Friedrichshain with snack stops, bike repair stations, resting stops, and planting areas along the way. While they're calling it "a piece of Copenhagen in Berlin," it'll prove that Berlin can hold its own as a bike city.
Source: citylab